Maternity Jeans Review
I review eight pairs of maternity jeans from four stores: Target, Motherhood Maternity, GAP, and Old Navy. Read more for my ratings and recommendations, as well as the recommendations from many other women! I hope this will be a helpful resource for you.
A couple of weeks ago, I went on an online maternity jeans shopping spree! I bought eight pairs of maternity pants in one fell swoop. (Online shopping is the best way to shop…the only way I can tolerate shopping, really.) I wanted to be an informed shopper, so I bought two pairs of jeans from four different stores. I planned to only keep two of the eight pairs, but I ended up keeping four! I'm really excited to share this maternity jeans review - I could have really benefited from something like this when I first started looking for jeans. I hope to make this blog post informative, accessible, and helpful. You'll find loads of pictures, links to each pair of jeans, and, to keep this post streamlined, a five point rating scale (*****) on the following categories:

1) Overall: How likely am I to recommend these to someone else, all factors considered?
2) Comfort: Do they fall down? Are they too tight/too loose in certain places? Does the stomach panel comfortably?
3) Quality: Do they feel like they could make it through 1-2 pregnancies, worn at least 2x/week?
4) Price: Does the price match the overall product? Do I feel like it's a good price for pants I'll wear for only 9ish months of my life (x 2 pregnancies)? By the way, the lower the rating, the worse I feel about the price. For example, I rated an $80 pair of jeans as a 1/5 stars and a $27 pair of jeans as 4/5 stars. More stars does not mean more expensive; more stars means better price, just FYI.
5) Appearance: How do I feel when I wear these jeans? Do I feel on-fire-smokin', pregnant Beyoncé style?
Here's a little about my body shape and pants preferences for you to keep in mind as you read my reviews.
My body shape:
-5'6"
-Weight: I don't know and I don't care. Weight doesn't really mean anything in relation to health or appearance. Boom.
-Pant size varies based on the store and style, but normally I'm a size 10.
-Longer torso, shorter legs
-A smaller waist relative to my hips
-A powerful and proud backside (i.e., I like big butts and I cannot lie). When I asked Cory how I should describe the size and shape of my buttocks, he said, "Beautiful. Just beautiful." Gotta love husbands.
My pants preferences:
-I prefer my pants to be more comfortable than fitted/stylish. The more I feel comfortable in my pants, the less I obsess about my body/size, and the more mentally healthy I feel.
-I would rather my pants be slightly too big than slightly too tight. I will always err on the side of comfort/too big for the rest of my life after spending insane amounts of energy trying to fit into slightly-too-small jeans in my disordered eating/exercise days.
-I am pretty frugal, and I especially hate to spend money on clothes (especially clothes I will only wear for 9 months of my life). Sure, I'll spend $70+ on a good pair of pants that I know I will wear 2x/week for the next two years. Sure, I'll spend $100+ on a good pair of leather boots that I'll wear nearly daily for the next four falls and winters. Those sorts of purchases feel more like investments. But when it comes to clothing that I know I won't wear very often (e.g., dresses, shirts, maternity clothing), I am against spending a lot of money.
-In terms of importance: comfort > price > quality > appearance. So keep in mind that comfort and price are the two more important factors I considered when deciding on which pants to buy.
At the end of the post, I'll include what I would have done different as well as additional maternity pants recommendations from women with other body types, preferences, and experiences to round it all out! Make sure you check out all the different pairs…my very favorite pair is the last one!

An important note about the pictures.
These pictures do not accurately capture my body and the way these jeans look it real life. The last thing I want to do is be one of those people on the Internet who misrepresents her body for her own benefit and makes others feel shitty about their bodies.
Here's what happened. Cory took these pictures for me, and I realized after the fact that the perspective on the photos highly skews my body shape making me look much smaller than I actually am. Cory is taller than me, and he took the pictures angled down. When I first scrolled through the pics after the "photo shoot," I thought, "Damn, I look good (read: skinny)!" And then I realized that it was diet culture, remnants of my body dysmorphia, and my past eating disorder gremlins insidiously hissing in my ear telling me that skinny was good and fat was bad. Initiate Kristen's internal healing self-talk, "Not true, not true, not true. I am not here for people's visual satisfaction. I am so much more than my body." I realized that these pictures were not accurately capturing my body after I had already returned four of the pairs of jeans. I wasn't able to re-do the entire photo shoot, so instead I decided include some pictures of the pants I kept from more accurate angles for you to see what they look like in "real life." I hope this is helpful!
Target
Overall: 4/5 stars ****
Comfort: 4/5 stars ****
Quality: 4/5 stars ****
Price: 5/5 stars *****
Appearance: 4/5 stars ****
bottom line: "I highly recommend these jeans!"
Comments: The moment I put these pants on, I fell in love! Why was it love at first fit? Because they fit my booty! This is always the sign of a good pair of pants for me. So often, I find pants that are comfortable in my legs, but they don't fit over my rear. These fit perfectly. They have a good amount of stretch, but not too much. The part over the belly is comfortable and not constricting (at least now early in my second trimester). And the back does not go all the way up to your bra line. Rather, it's lower and crosses over, designed to keep you cool. (To see the back of these jeans, check out the pic below called back view 2 or by clicking on this link.) I will say, they do fall down just a tiny bit, and I find myself pulling them up every so often. The butt/legs slide down a little, not the stomach panel. I'm pretty sure it's because they're slightly too big - I probably could have worn a size 8, but, as I mentioned above, I'd much rather have more room than too little room. Also, I want to make sure I have room to grow in my stomach and elsewhere. I was only 13 weeks when I took these pictures, so I will have a long way to grow. I imagine the bigger I get, the less often I'll have to pull them up (maybe I'm wrong)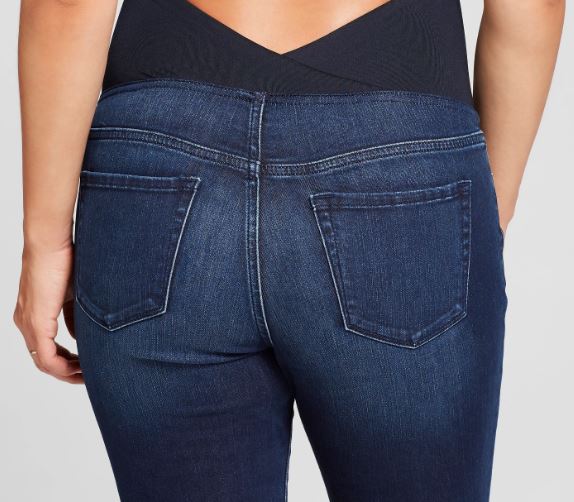 Overall: 3/5 stars ***
Comfort: 3/5 stars ***
Quality: 4/5 stars ****
Price: 5/5 stars *****
Appearance: 4/5 stars ****
bottom line: "These jeans are comfortable and affordable but fall down quite a bit (early in my second trimester)."
Comments: Everything that I wrote about the Isabel Maternity jeans above applies to this pair with one exception - these jeggings fall down more often than the jeans above. Again, they fall down from the butt/legs, not the stomach panel. It's probably because they're just a little too big for me, but I plan on growing into them. When I first decided to keep them, I didn't realize how often they fell down. Now that I've had them for several weeks, I regret keeping them because of how often they fall down. If I could do it over, I would have purchased the jeans (#1 above) but not these jeggings. (At least they were only $30 and I still like them enough to wear them on a weekly basis!) Or, I might have tried a size smaller. One woman online rated these pants a 5/5 and said,
"I tried on several brands and styles of maternity jeans and was becoming super frustrated until I found these babies! They truly don't slip down and are very comfy, look like a skinny jean, not a jegging! These are in my rotation of go to daily basics, super comfy and look new after every wash. I sized down 1 size from my pre pregnancy and they fit perfectly. Not to mention super affordable for maternity clothing. :) Highly recommend!"
Live and learn, folks, live and learn.
Different angle. Slightly different representation of my body. I think the picture on the right more closely represents what these jeans actually look like on me.
Left: posed, unnatural angle
Right: Tuesday morning, breakfast cooking, real life.
motherhood maternity
Size: Medium
Overall: 2/5 stars **
Comfort: 2/5 stars **
Quality: 3/5 stars ***
Price: 2/5 stars **
Appearance: 3/5 stars ***
bottom line: "i do not recommend these jeans for anyone with curves."
Comments: I have three main issues with these pants/brand. One, the butt didn't fit. I pulled the jeans up over my rump, and the top line of the butt hit about two inches below the top of my crack (just trying to be extra descriptive!). No way, José. Not gonna cut it. I tried sitting down in the jeans, and they were even less comfortable. I tried on a large, but the legs were way too big. And that's the perfect transition to issue #2: the sizing. Small, medium, large, x-large? What?! When the heck did women's bodies fit into neat little sizes like this? It's ridiculous. Men buy jeans based on the waist and inseam measurements, a much more accurate way to size pants. (Um, no duh!) I was already frustrated that the diversity of women's shapes wasn't considered in pant sizes like 8, 10, 12. But small, medium, large, x-large? You're telling me that pregnant women's bodies have to fit in just FOUR frickin' sizes? No way. Not to mention that I am a medium/large in this sizing, and I'm on the smaller size of body sizes. What about all the wonderful women out there who are bigger than me? Where are the size options for them, Motherhood Maternity? Talk about fat discrimination. Ugh. Finally, the third reason I don't like these pants is because the sales associate at Motherhood Maternity was very pushy. If I had to bet, I'd bet she was paid on commission. She tried to push a more expensive brand on me, A Pea in the Pod, that was sold at the same store. Pants from A Pea in the Pod range from $88 to $265. (Who are these people who can afford $200 maternity pants? No judgment…just really confused about who these people are! Well, maybe a little judgment…and a little jealousy for their overflowing wallets. #honesty) All in all, I was not impressed with these pants.
Size: Medium
Overall: 2/5 stars **
Comfort: 2/5 stars **
Quality: 3/5 stars ***
Price: 2/5 stars **
Appearance: 3/5 stars ***
bottom line: "i do not recommend these jeans for anyone with curves."
Comments: These are the same pants as #3 but just in black. Same comments (i.e., "rant") as above.
GAP
Size: 30
Overall: 3/5 stars ***
Comfort: 3/5 stars ***
Quality: 4/5 stars ****
Price: 1/5 stars *
Appearance: 3/5 stars ***
bottom line: "i recommend these jeans if you're okay spending $80. If you order them, order them a size smaller than your pre-pregnancy size."
Comments: I love GAP jeans. This is where I buy most of my (non-pregnancy) pants. I was really excited to try these GAP Maternity Soft Wear jeans. (I mean, there is "soft" in the name. I had great expectations.) I had heard amazing reviews from my friends and the Internet, and I figured that I was going to accept the $80 price tag if they happened to be miraculous, can't-live-without jeans. (I would then just have to wear them 5 days/week to justify their price!) I ordered my pre-pregnancy size 30, which is comparable to a 10 in traditional sizing. And, sadly, they were HUGE. Way too big on me. As soon as I took a step in them, they started to slide down. On the GAP website, one women who gave these pants 2/5 stars commented,
"These run HUGE in my opinion, especially around the upper thigh and butt area, and I'm particularly curvy in those areas and have gotten bigger there during pregnancy. I can't take 2 steps without having to constantly hold them up or else they would end up around my ankles."
Another women felt oppositely rated them a 5/5 and said,
"I have been looking for maternity pants that are flattering and comfortable and these are it! These are a definite staple!"
I bet if I ordered these pants one size down, they would have fit great. However, I'm hesitant to order a size smaller than normal because I expect to grow significantly in the next few months (ya think?!), and I'd hate to be able to wear $80 jeans for only a month or two.
Size: 30
Overall: 3/5 stars ***
Comfort: 3/5 stars ***
Quality: 4/5 stars ****
Price: 1/5 stars *
Appearance: 3/5 stars ***
bottom line: "expensive and not worth it. you can get the same quality and comfort at target."
Comments: About the same as #4 above except they weren't quite as too big. Honestly, I don't remember much about this pair. They were definitely unremarkable. Nothing special, especially for the $75 price tag. I remember thinking that I preferred the Target jeans to these GAP jeans, and the Target jeans were $45 less expensive. A no brainer in my book. Funny story - as I returned these two pairs of GAP jeans at the store, the sales associate asked me, "Was there anything wrong with the jeans?" I said, "No, nothing wrong. They just didn't end up working out, especially for the price." When she saw the amount being returned to my card (nearly $170), she said, "Wow, that's a lot for pants!" Her comment was validating - even a GAP sales associate was floored at the price of these maternity pants. It's really frustrating considering that most non-maternity jeans/jeggings at GAP can be found for about $59.95, and often times you can find jeans on sale for much less. For example, these (non-maternity) ankle jeggings are on sale right now for $48. Kind of a bummer that maternity jeans don't seem to go on sale at GAP (please email me if you're experienced otherwise!). I feel like when you slap the term "maternity" or "wedding" on the front of an item, the price inflates by 20%. Gah! Oh well.
Here's what a couple gals had to say online about these jeans:
3/5 stars "They fit like they are at least two sizes too big. Such a shame because they're actually very cute!"
5/5 stars "These fit perfect and just like my pre pregnant jeans that I would buy from the Gap."
Size: 10
Overall: 4/5 stars ****
Comfort: 4/5 stars ****
Quality: 3/5 stars ***
Price: 5/5 stars *****
Appearance: 4/5 stars ****
bottom line: "i highly recommend these jeans - especially when on sale!"
Comments: I love Old Navy sales. The day I bought these jeans online, they were having a 40% off jeans day - a sale that happens pretty frequently at Old Navy, actually. While I was super pumped about the $27 price tag, I was hesitant about the quality of the jeans. In the past, my Old Navy blue jeans have bled dye onto my hands and tan-colored car upholstery even after several washes. You can imagine how pumped I was when I got these jeans in the mail and discovered that they do NOT bleed blue dye at all! I tried vigorously rubbing my hands over the tops of my thighs to try to release the dye, but release it did not! Clean hands, no blue. Also, these jeans are really comfortable! They tie for comfort with my fave Target jeans above (#1). They rarely fall down. Really great stretch. They feel like butter on my skin. The only weird thing (that doesn't bother me but seems to bother a lot of women online) is that the stomach panel is sewn oddly into the front of the jeans behind the button. Unlike other maternity jeans in which the stomach panel flows seamlessly from the front of the jeans, the front of these Old Navy jeans are a little funky-dunky. The way this stomach panel is sewn in causes the top of the jeans to kind of stick out a little bit (see pics 5-6 below). It doesn't bother me at all because my shirts are usually long enough to cover the very top of the pants. I'm also realizing that my growing stomach is starting to fill out the jeans more, lessening the weird button poppage situation.
Here's what a few women online had to say about these jeans:
3/5 stars "Not as comfortable as I would like. They fit well and have some stretch. I don't like the part that comes over the stomach."
5/5 stars: "Super happy with these pants. I love that they come in short and long too, I always need short pants. They material is pretty nice and hasn't stretched out for me yet."
5/5 stars "Maternity jeans are terrible to shop for, and most don't keep shape and stay up for even a full day. I'm on day 3 with these and still no slipping. Comfy, great versatile dark wash."
Size: 10
Overall: 5/5 stars *****
Comfort: 5/5 stars *****
Quality: 3/5 stars ***
Price: 5/5 stars *****
Appearance: 4/5 stars *****
bottom line: "i highly recommend these jeans - especially when on sale!"
Comments: THESE ARE MY FAVORITE! Ridiculous comfort, amazing price ($33), great look! They're like a structured, more comfortable legging. (Yep, I said it. More comfortable than leggings!) I just checked to see if Old Navy sells them in colors other than black - but, sadly, they don't. I wish they did! I'd buy them in multiple colors and wear them every day!
Here's what a couple other gals had to say about these jeans:
5/5 stars: "Needed a black pant I could wear to work that was comfortable and more structured than a legging. This is a great, reasonably priced option."
5/5 stars: "This pair of maternity jeans is the softest most comfortable maternity jeans I've ever owned. Even the panel is so soft!! I love how they fit so well. You'll never regret this! Buy the size you would get pre-pregnancy."
3/5 stars: "I don't really understand why the elastic is sewn INTO a waistband- the waistband is way too big. Maybe these would fit me in a few months, but I'm looking for pants that are going to fit me for the next 6 months until my due date."
Different day. Different angle. The right side is closer to how they look in everyday life.
The pics below show how these Old Navy jeggings look in more natural angles and when I'm on-the-move in everyday life.
What would i Have done differently?
I was so excited that I found four pairs that fit me well, were comfortable, and were affordable (all around $30/each), I impulsively kept them all. I now have four pairs of skinny maternity jeans, two dark blue, one medium wash, and one black. I wish I would have only kept one of the dark blue wash (I really don't need two in the same color) and would have bought a different color or a really light blue wash for summer, just for variety. Or, I could have just waited to buy a fourth pair as my body evolved in the third trimester.
what do other people recommend?
To get a diverse sampling of recommendations, I asked my Facebook community to share their favorite maternity pants. As you'll see, other women had different experiences with some of the brands I didn't love. This goes to show that every body is different and everyone has different needs. Reading through their opinions showed me the importance of shopping around for yourself. If you have the time and resources, I would highly recommend ordering multiple pairs from different stores and then returning what you don't like. Here's what my Facebook friends had to say!
"Target leggings are one of my top faves." Find these leggings here: Maternity Seamless Footless Tight Belly Leggings - Isabel Maternity by Ingrid & Isabel™ Black $19.99
"I love the jeans and leggings from Motherhood. Unfortunately, their selection of plus size in-store isn't great but I've ordered online with great luck. I prefer the maternity pants that stretch all the way over the belly. Under the belly ones seem to bunch up when I sit and they hurt. The pants at Motherhood are typically around $30-$40. I am 5'5" and plus size, typically a 2X or size 18 in pants. I get a 2X in my maternity pants and they fit perfectly!"
"I didn't wear maternity pants with my first because he was born in September and I was pregnant all summer/fall and HOT! I bought a lot of shorts at thrift stores. The brands were mostly Motherhood or Target brands. He sat up high on me so I didn't mind the lower waist band. However, with the twins, it was a different experience! They were so low! I had to wear a maternity support band AND have the big over-the belly waist band. I found 1 pair of yoga-like maternity pants at kohl's that I basically lived in from October-December! If those were dirty/being washed I wore some maternity leggings from Motherhood online. They were okay, not as comfortable as the ones from Kohl's."
"I've had better luck with Walmart leggings over Motherhood Maternity. The material isn't so thin. I also love Target maternity jeans because they are true to your original jean size!!!"
"Motherhood were the most comfortable for the entire pregnancy. I love my old navy skinny jeans up until like month 9. Then they dug into my stomach too much. Favorite leggings are definitely the Gap Love ones. I still wear them 4 month postpartum around the house because they're so comfy (and thick too)! "
"My fav maternity jeans were Gap maternity. I had to wear the full panel because the ones with the small band at the top were so uncomfortable on my belly."
"Old Navy maternity pants and shorts were great for my 5'6" 200# curvy build."
"Gap was my favorite! Paid about $45 (there's always deals, never pay full price). "Demi panel" worked best for me and were way more comfortable than the other types. I hated full panel. The jeans were always falling down and i looked crazy pulling them up. Depending on which pregnancy, i wore a size 8-12. I'm a pear shape...but with a bit more waist after #1 (hence the bigger size for #2)."
"I've been pregnant twice in the last three years! I'm a full-belly panel kind of girl, the low-cut and belly-band just didn't work well on me! 1) Motherhood Maternity — can find good sales pretty regularly. Their leggings are sooooo comfortable! And their jean pants and shorts fit well, wear well (washing 1-2x/wk for 2 pregnancies and they still have life left!). 2) $25-35/pair not on sale. 3)I'm 5'3" short torso, short legs."
"I like gap maternity full panel best and love to find them on clearance online. They have been true to pre-pregnancy size. I am a little taller than 5'6" with a shorter torso, longer legs (usually prefer a 33" inseam), and have more curvy thighs and hips. The low panel ones from gap are good until about 32 or 34 weeks, then the panel digs in if you carry lower. Boot cut and skinny/straight cut have all fit. On sale I have gotten them for $20. Full price they would be $60-70. I have recently found luck with a full panel front/low cut cross-back pair of jeans from target, which have been a little cooler as the weather is warming up."
If you made it to the bottom of this post, I am impressed with you!
This was a beast of a blog post, and I had a lot of fun writing it! as a "reward" for making it to the end, I'll leave you with a picture of me in the old navy jeans today at 15 weeks + 3 days pregnant! I feel amazingly big today…I swear I'm not pushing out! :) Thanks for reading!
-Big hugs from Kristen and Cory